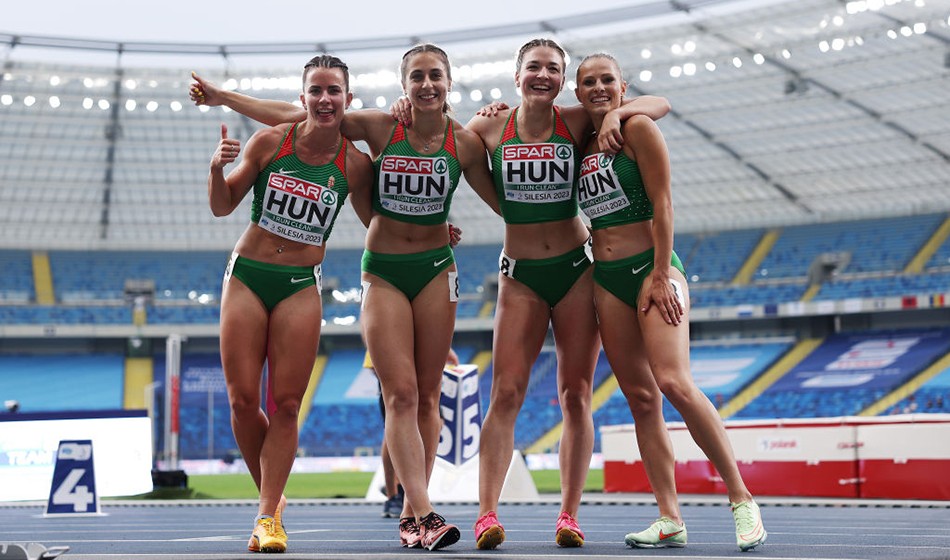 Hungary earn promotion to first division along with Ukraine and Lithuania with Slovenia just missing out
No doubt inspired by the prospect of hosting the World Championships in Budapest in August, Hungary rose to the occasion in Chorzow, Poland, to top the table in division two of the European Team Championships.
Ukraine and Lithuania joined Hungary in earning promotion to division one, with Slovenia agonisingly missing out by half a point, whereas Moldova, Luxembourg and Iceland wound up at the bottom and will slide into division three.
Hungarian individual victories came from athletes like Anita Marton, who won the womens shot with 17.74m, plus Luca Kozak, who took the womens sprint hurdles in 12.89.
In the mens 400m, meanwhile, Attila Molnar won in 45.30 just one hundredth of a second ahead of Ukraines Oleksandr Pohorilko. There was also victory for Hungary in the womens 4x100m in a national record of 43.49 (see main image above).
Keen to regain promotion to the top tier, Ukraine brought out some of their big-name athletes with Yaroslava Mahuchukh winning the high jump with 1.97m.
Horizontal jumps specialist Maryna Bekh-Romanchuk of Ukraine had mixed fortunes, though, as she won the triple jump with 14.58m but fouled her efforts in the long jump.
As Hungary cemented their lead ahead of Ukraine throughout the three-day competition, however, there was a big scrap for the minor team medals with Lithuania just edging out Slovenia in the end.
Slovenia were bolstered by discus giant Kristjan Ceh, who threw championship records of 69.29m and 69.94m to earn his country maximum points.
Tina Sutej also gave Slovenia top points with a womens pole vault victory with a best of 4.50m.
There were heroics in the final event, the 4x400m mixed relay, as Slovenias anchor runner, Anita Horvat, brought her team from third to first place as Lithuania finished fourth.
But Lithuania had greater consistency over the three days and finished just ahead on the final points scoring.
Final standings: 1 Hungary 456.5; 2 Ukraine 435.5; 3 Lithuania 372.5; 4 Slovenia 372; 5 Romania 344; 6 Denmark 312; 7 Serbia 307; 8 Slovakia 302; 9 Croatia 301.5; 10 Estonia 298.5; 11 Bulgaria 298.5; 12 Cyprus 288; 13 Latvia 283.5; 14 Iceland 246.5; 15 Luxembourg 198; 16 Moldova 170