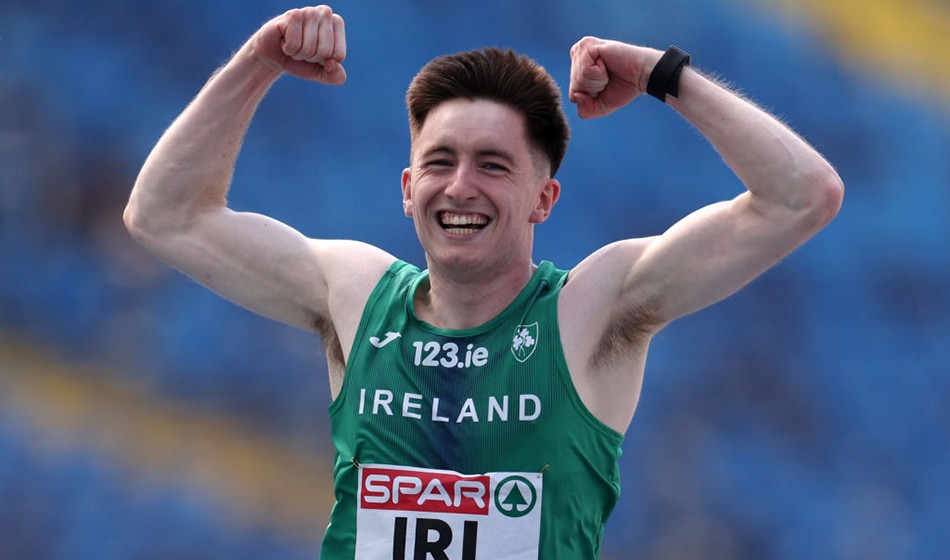 Boosted by victories from Sophie OSullivan, Louise Shanahan, James Ezeonu and Sarah Lavin, Ireland win the division three match ahead of Austria
Irish athletes enjoyed a brilliant three days in Chorzow, Poland, as they won the division three match at the European Team Championships.
With Austria finishing as runners up and Israel in third, the three teams earned promotion to division two.
With a big lead going into the final event, the mixed 4x400m relay, Ireland rounded their competition off in emphatic style by winning by 40 metres from Austria in 3:17.16 as the anchor runner, Sharlene Mawdsley, followed her earlier victory in the individual womens 400m.
Sophie OSullivan, daughter of three-time European champion and 1995 world 5000m gold medallist Sonia OSullivan, marked her senior Irish debut with a victory in the womens 1500m. The 21-year-old US-based athlete has made big improvements this year and clocked 4:27.96 to win a tactical race.
OSullivans mum won the same event at the European Cup Second League three times in the early 1990s.
Further Irish victories also came via Mark Smyth (main image above) in the mens 200m in 20.66 as he also anchored the mens 4x100m to victory as well.
David Cussen won the mens high jump on countback after he and Austrias Lionel Strasser had cleared 2.11m. Irelands Eric Favors took the mens shot put in 20.28m.
Ellie McCartney won the womens pole vault with 4.20m, while Louise Shanahan produced a strong finish to take the womens 800m in 2:03.39. The experienced Thomas Barr, meanwhile, took the mens 400m hurdles in 49.41.
There were also Irish victories in the sprint hurdles courtesy of James Ezeonu and Sarah Lavin. Ezeonu, 19, is one of several Irish athletes studying in the US and he clocked 14.31 to take maximum points. For Lavin, her sizzling 12.82 win came just two months after the death of her boyfriend Craig Breen, a rising force in world motor rallying, after a freak accident in Croatia.
Austria put up a strong challenge for the win, though, with great performances from athletes like Susanne Gogl-Walli in the 200m with 23.09 and 4x100m and mixed relay, plus Lukas Weisshaidinger, who won the discus with 62.12m.
The European Team Champs is renowned for its rollercoaster results, however, and one of Austrias low moments was its mens 4x100m team being disqualified as Ireland won in 39.57.
The top teams aside, Albanias Luiza Gega created history as she joined Bulgarias Ivet Lalova-Collio as the most successful athlete in competition history (with 11 wins) after firstly out-kicking Lonah Salpeter of Israel to win the womens 5000m in 15:32.39 and later returning to set a championship record of 9:17.31 in the 3000m steeplechase.
Final standings: 1 Ireland 494; 2 Austria 473.5; 3 Israel 434; 4 Bosnia & Herzegovina 363; 5 Malta 352.5; 6 Georgia 290; 7 Andorra 269; 8 Montenegro 258; 9 Albania 257; 10 Armenia 255; 11 Republic of North Macedonia 235; 12 San Marino 192; 13 Azerbaijan 180; 14 Kosovo 150; 15 Liechtenstein 32