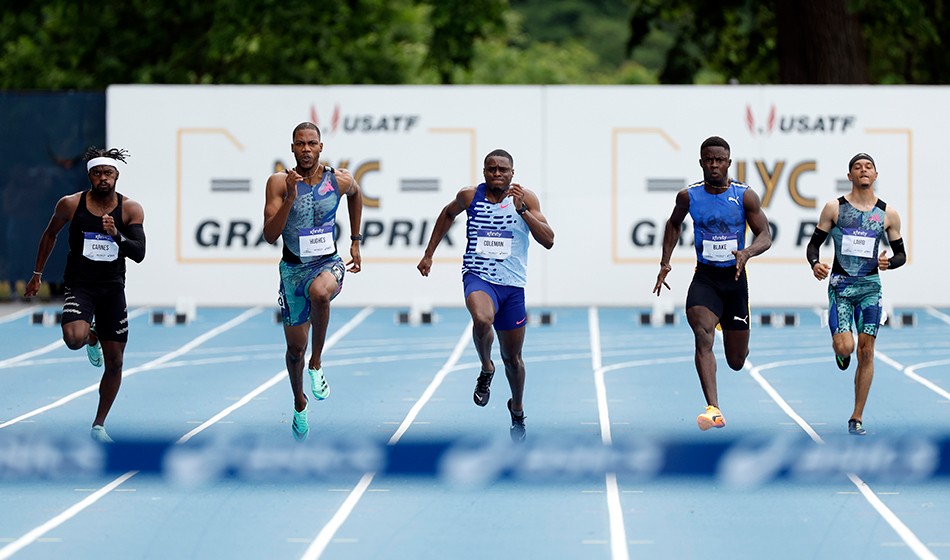 The 27-year-old is now the fastest British runner in history after taking down 30-year-old national mark in New York
Zharnel Hughes has created history by breaking Linford Christies long-standing UK 100m of 9.87 with a blistering 9.83 (+1.3) at the USATF NYC Grand Prix on Saturday (June 24).
Outside athletics, Hughes is a qualified pilot and here in New York he flew down the track and then really took off in the final stages as he drew away from a world-class field.
Racing in the same Icahn Stadium in Manhattan where Usain Bolt set his first world 100m record of 9.72 a few weeks before the 2008 Beijing Olympics, Hughes charged out of the blocks from lane six but found himself behind Ackeem Blake of Jamaica, plus Christian Coleman and Brandon Carnes of the United States at 30m although he drew level with Blake and Coleman at 60m.
At that point Hughes sprouted wings and surged clear to win by a tenth of a second from Blake with Coleman, the 2019 world champion, fading to third in 10.02.
Hughes time initially flashed up as 9.84 but was quickly corrected to 9.83 as he continued running around the bend celebrating and pointing his finger to the air triumphantly before turning around to look at the clock. The joy of victory was then overtaken by a look of astonishment as he realised hed improved his PB from 9.91 and set a British record to boot.
Christies mark had stood since August 1993 when he won the world title in Stuttgart ahead of Americans Andre Cason, Dennis Mitchell and Carl Lewis. His 9.87 was a European record at the time and, aged 33, it came one year after he won the Olympic 100m title in Barcelona.
Hughes was born in Anguilla but has competed for Britain for a number of years and his career highlights include winning European 100m gold in 2018 and 200m gold in 2022.
Coached by Glen Mills in Jamaica the same man who guided Bolt he is also a regular in the GB sprint relay team and a member of Shaftesbury Barnet Harriers in the UK.
Slightly better known as a 200m runner, in this kind of form he surely has a good chance this summer of breaking another long-time British record the 19.87 mark set by John Regis at altitude in Sestriere, Italy, back in 1994.
Find out more about Hughes in our Ask the Athlete interview from 2021 here.
UK all-time mens 100m
9.83 (1.3) Zharnel Hughes, New York 2023
9.87 (0.3) Linford Christie, Stuttgart 1993
9.91 (1.1) James Dasaolu, Birmingham 2013
9.93 (-1.2) Reece Prescod, Ostrava 2022
9.93 (0.1) Eugene Amo-Dadzie, Graz 2023
9.96 (1.4) CJ Ujah, Hengelo 2014
9.96 (2.0) Joel Fearon, Bedford 2016
9.97 (0.2) Dwain Chambers, Seville 1999
9.97 (2.0) Adam Gemili, Birmingham 2015
9.98 (0.4) Jason Gardener, Lausanne 1999
9.99 (0.6) Nethaneel Mitchell-Blake, Columbia 2017
Elsewhere at this Continental Tour Gold meeting, Noah Lyles won the mens 200m in 19.83 (0.8) to tie with Usain Bolt for the most sub-20 times in history (34 races).
Athing Mu opened her season with a comfortable victory over 800m in 1:58.73, while Sydney McLaughlin-Levrone ran a controlled flat 400m to beat fellow American Gabby Thomas in a PB of 49.51.