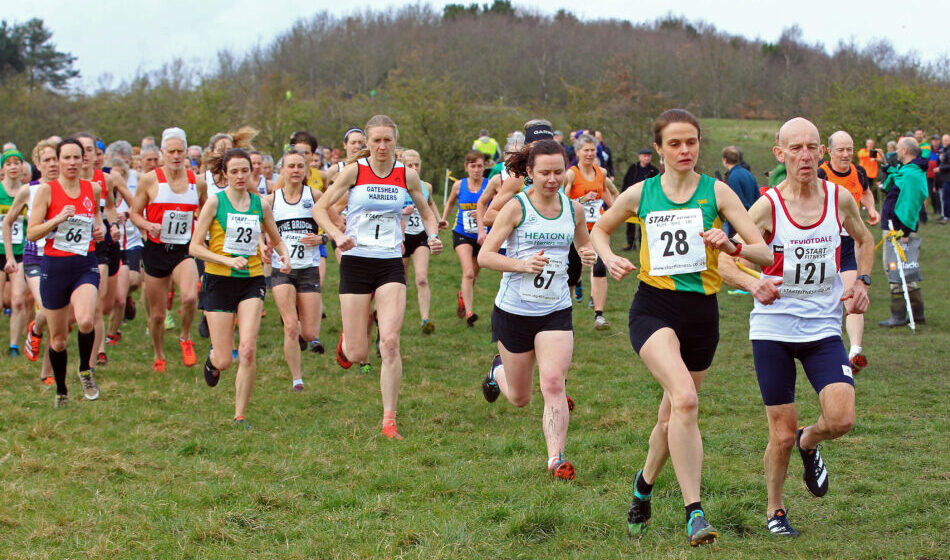 British masters cross country runners out in force in North East with new and established stars winning titles
North East Masters put on a highly successful and well organised British Masters Championship in Wallsend on Saturday (March 18).
Some of Britains all-time masters greats such as Alastair Walker, Angela Copson and Clare Elms travelled to the North East and in the manner of the victories of newcomers Jarlath McKenna and Juliet Potter this could also be the first of many titles for two performers who both performed well in senior competition just a week earlier.
Given the less than central venue and a rail strike, numbers were excellent although North East clubs did give the event superb support on a very tough and muddy course that was held on the former Rising Sun colliery, between Newcastle and Whitley Bay.
The Potter twins dominated the womens race with Juliet winning by a huge margin in 22:04 from former English National junior winner Jane on 23:42.
The faster Potter was a fine 20th in the previous weeks Inter-Counties event following a fifth in the Midlands Championships.
Its worth noting that both the Potters have won English National senior individual medals with Jane third in 2003 and Juliet matching her in 2004.
The W40 runners gained a clean sweep of the top three places with Sam Davies taking bronze in 24:03.
Caimhe Nic Fhogartaig and Kathryn Stevenson both followed on 24:08 taking respective W45 and W50 titles while Ellie Reed (24:46) won a less keenly contested W35 section behind the W45 and W50 runners-up.
Former overall race winner Clare Elms (25:14) retained her W55 title in her last year in the age group though Jacky Murdy (25:29) chased her hard all the way.
Unusually Elms was the only successful defending champion in 20 different age groups from Tonbridge though the geographical switch was obviously a major factor.
Carole Page had her best win to date in the W60s in 26:26 ahead of fellow England international Sue Cordingley (27:03), who has previously won W45, W50, W55 and W60 titles.
Carole Wheelhouse (30:21) Linden Nicholson (32:27) and Angela Copson (35:16) won respective W65, W70 and W75 titles by clear margins.
The M65 men plus age groups run with the women and there multi world record-breaker Alastair Walker was headed by only Juliet Potter but he was not helped by having to stop and out a shoe back on that was sucked off by the mud.
In the masters international in Dublin in November, the Scot won by an incredible two minutes on a shorter course than here but bronze medallist there Jonathan Haynes (24:12) kept the margin under a minute to Walker (23:18) with bronze going to another England international from Dublin in Kevin Newman (24:52), who was the defending champion.
Scots also took the M70 and M75 titles. Tony Martin who won at Dublin as well as taking the Euro Masters half-marathon title in Italy and has never lost a M70 age group race added to his titles with victory in 25:15 from former M65 winner Stan Owen (26:14).
Alex Sutherland who won M70 bronze in Dublin and is now in the M75 category won gold by three minutes in 28:00.
There were two Barnes-storming victories for North East athletes in the two oldest age groups as M80 Mike Barnes (37:49) and M85 Ian Barnes (47:36) won gold medals.
The overall mens race for M35 to M65 competitors was dominated by Jarlath McKenna.
The North-East based Bristol and West M40 athlete was 29th in the previous weeks Inter-Counties and has been doing well in the local Harrier League and he won easily in 29:12.
Next in Gregory Jayasuriya (30:01) comfortably won the younger M35 category which was exclusively contested by North East athletes.
The M45 category was closer as Thames Hare and Hounds Phil Tedd (31:11) held off a strong challenge from Leeds Mike Burrell (31:16).
Scotland won three of the mens individual categories in the older race and they also annexed the M50 to M60 titles.
Stephen Wylie (32:11) won the M50 title by over a minute though Walter Henderson (34:11) had less time in hand in winning the M55 title from fellow Scot Chris Upson (34:24).
Both the M55 top two though trailed outstanding M60 winner Colin Donnelly who won gold by over two minutes in 33:52.
The 63 year-old regained the title he won in 2020 but had since only featured on Power of 10 in the Border League but he is a former European mountain champion and he made light work of the races many ups and downs. He also won a M55 team gold for Cambuslang ahead of a strong Guildford team.
Leeds won M45 gold with ease and Warrington M65 titles but most of the other titles went to local clubs.
Gateshead won M35, North Shields the W35, Tyne Bridge the W45 and W65 Elvet Striders the W55.
M35
(Overall race position at end over all age groups)
1 Gregory Jayasuriya Middlesbrough & Cleveland H 30:01 2
2 Stephen Jackson Sunderland H 30:31 3
3 Conrad Franks Gateshead H 30:52 5
4 Dave Richardson Gateshead H 31:44 9
5 Craig Jones Tyne Bridge H 31:54 11
6 James Oldfield Sedgefield H 32:16 14
7 Andrew Lawrence Morpeth H 32:31 17
8 James Anderson North Shields Poly 32:32 18
9 Graham Crammond North Shields Poly 33:40 25
10 Rudy McLeod Alnwick H 33:55 29
11 Phill Jamieson Gateshead H 34:18 35
12 Peter Grimoldby Gateshead H 34:51 41
M40
1 Jarlath McKenna Bristol & West AC 29:12 1
2 Grant Baillie East Kilbride 30:43 4
3 Jonathan Tipper Kent AC 30:58 6
4 Ben Cook North Shields Poly 31:48 10
5 Mick Jones Tyne Bridge H 32:00 12
6 Jonathan Stewart Leeds City AC 32:20 15
7 Michael Barker Sunderland H 32:29 16
8 James Scott-Buccleuch Stockport H 32:47 20
9 Brian Stopher Aldershot, Farnham & District 33:16 21
10 Chris Stockdale Tyne Bridge H 33:29 24
11 Ian Dunn North Shields Poly 33:59 31
12 Patrick Houghton North Shields Poly 34:07 33
13 Graeme Watt Elvet Striders 34:20 36
14 Phil Ray Elvet Striders 34:32 39
15 Graeme Cook North Shields Poly 34:56 43
16 Steven Medd Gateshead H 35:09 44
M45
1 Phillip Tedd Thames Hare & Hounds 31:11 7
2 Mike Burrett Leeds City AC 31:16 8
3 Alan Buckley Leeds City AC 32:45 19
4 Martin Shore Thames Hare & Hounds 33:26 23
5 Billy McCartney Salford Harriers AC 33:42 26
6 Mick Hill Leeds City AC 33:57 30
7 Andrew Heppell Gosforth H 34:01 32
8 Nigel Simpson Birtley AC 34:42 40
9 Michael Littlewood Elvet Striders 34:54 42
10 Lindsay McEwan Elvet Striders 35:20 49
11 Richard Giles Kent AC 35:27 50
12 John Sturman Heaton H 35:52 53
13 David Hudson Salford Harriers AC 36:21 58
14 Richard Glennie Morpeth H 37:14 65
15 Jon Bateman Tyne Bridge H 37:20 67
M50
1 Stephen Wylie Cambuslang H 32:11 13
2 Michael Parkinson North Shields Poly 33:24 22
3 Alasdair Tatham North York Moors AC 33:48 27
4 James Allan Alnwick H 34:28 38
5 Lee Bennett Morpeth H 35:19 48
6 David Moir Tyne Bridge H 36:05 56
7 James Duthie Wallsend H 37:34 70
8 Steven Gordon Sunderland H 37:41 71
9 Chris Waite North Shields Poly 37:55 74
10 Jason Dawson Morpeth H 38:18 78
M55
1 Walter Henderson Cumbernauld AAC 34:11 34
2 Chris Upson Cambuslang H 34:24 37
3 Mark Tennyson Guildford & Godalming 35:17 46
4 Terry Booth Guildford & Godalming 36:14 57
5 John OReilly Tynedale H 36:30 60
6 Rob Andrew Alnwick H 36:49 63
7 Ross McEachern Cumbernauld AAC 36:53 64
8 Andy Green Tynedale H 37:16 66
9 David Williams Guildford & Godalming 37:48 72
10 Dominic McDermott Tynedale H 39:06 82
11 Sean Casey Cumbernauld AAC 39:26 86
12 John Rippon Derwent Valley Trail Runners 39:36 89
13 Simon Allen Elswick H 39:39 90
14 Colin Hodgson Derwent Valley Trail Runners 41:03 100
15 Henry Povey Blyth RC 41:08 102
M60
1 Colin Donnelly Cambuslang H 33:52 28
2 Greg Penn North Shields Poly 35:57 54
3 Colin Feechan Cambuslang H 36:22 59
4 Paul Merrison Sunderland H 36:42 61
5 Jeff Farquhar Pitreavie AAC 36:44 62
6 Steve Everett Durham City H 38:10 76
7 Len Reilly Kent AC 39:08 83
8 David Norman Warrington AC 39:22 85
9 Steven Doxey Swinton RC 40:08 95
10 Neil Clarkson Tyne Bridge H 41:05 101
W35
Overall race position at end
1 Ellie Reed Heaton H 24:46 11
2 Kim Grimoldby Gateshead H 24:57 13
3 Claire Harlow North Shields Poly 26:16 28
4 Therese Jansson City of York 26:57 36
5 Sarah Robson Wallsend H 27:28 43
6 Zoe Thompson Tyne Bridge H 27:32 46
W40
1 Juliet Potter Charnwood AC 22:04 1
2 Jane Potter Charnwood AC 23:42 3
3 Samantha Davies Easingwold RC 24:03 4
4 Chrissie Dover City of York 24:39 8
5 Sarah Kerr Claremont Road Runners 25:41 21
6 Victoria Gibbs North Shields Poly 25:44 22
7 Ellen Tullo Heaton H 26:28 32
8 Emily James Wallsend H 27:14 42
9 Elaine Ashton Wallsend H 28:30 59
10 Jennyfer Ricci Tyne Bridge H 30:25 76
11 Helen Johnson Jarrow & Hebburn AC 32:33 91
W45
1 Caoimhe Nic Fhogartaigh Kent AC 24:08 5
2 Stephanie Maclean Dann North Shields Poly 24:43 10
3 Alison Dargie Tyne Bridge H 25:08 14
4 Judith Nutt Elswick H 25:49 23
5 Felicity Smith Elswick H 26:02 24
6 Claire Simpson Jarrow & Hebburn AC 26:49 33
7 Nicola Simpson Richmond & Zetland H 26:53 34
8 Claire McManus North Shields Poly 27:07 40
9 Samantha Sale Lostock AC 27:29 44
10 Alison Smith North Shields Poly 27:33 48
W50
1 Kathryn Stevenson Tyne Bridge H 24:08 5
2 Rachel Cooke Buckingham & Stowe RC 24:40 9
3 Sharon Bulman New Marske H 25:12 15
4 Ruth Thackray Bingley H 25:34 19
5 Stephanie Robson Bingley H 26:10 25
6 Arabella Pearce Elswick H 28:01 52
7 Patricia Speedie New Marske H 28:04 53
8 Nina Cameron Heaton H 28:07 55
9 Andrea Banner Elswick H 28:10 56
10 Allie Chong Giffnock North 28:55 64
W55
1 Clare Elms Kent AC 25:14 16
2 Jackie Murdy South Shields H 25:29 18
3 Katherine Davis North Shields Poly 26:15 27
4 Vikki Filsell Thames Hare & Hounds 27:29 44
5 Kath Aspin New Marske H 28:49 62
6 Julie Turner Birtley AC 29:55 72
7 Julie Cross Claremont Road Runners 30:13 73
8 Pauline Whittaker Richmond & Zetland H 32:11 86
9 Gill Parkin Tyne Bridge H 32:31 90
10 Claire Mason Blyth RC 32:37 92
W60
1 Carole Page Alnwick H 26:26 31
2 Sue Cordingley Bingley H 27:03 38
3 Heather Robinson Jarrow & Hebburn AC 28:55 64
4 Susan Davis Elvet Striders 31:04 79
5 Linda New Harborough AC 31:51 82
6 Heather Raistrick Elvet Striders 32:06 85
7 Jenny Friend Heaton H 32:24 87
8 Fiona Shenton Elvet Striders 32:39 93
W65
1 Caroline Wheelhouse Doncaster AC 30:21 75
2 Christine Woods Durham City H 31:57 83
3 Marian Hesketh Preston H 35:35 100
4 Jessica Anderson Tyne Bridge H 38:27 109
5 Anne Craddock Blyth RC 39:16 114
W70
1 Linden Nicholson Lasswade AC 32:27 89
2 Janette Kilgour Heaton H 48:32 124
W75
1 Angela Copson Rugby & Northampton 35:16 99
2 Doreen Henderson Giffnock North 38:00 108
M65
1 Alastair Walker Teviotdale H 23:18 2
2 Jonathan Haynes Bishops Stortford RC 24:12 7
3 Kevin Newman Doncaster AC 24:52 12
4 David Gill Warrington AC 25:36 20
5 Gavin Bayne Morpeth H 26:20 29
6 Ian Furness Dudley & Stourbridge H 26:25 30
7 Kenneth Addison Red Rose Road Runners 26:54 35
8 Geoff Davis Elvet Striders 27:00 37
9 David Nicholson Morpeth H 27:05 39
10 Mervyn Ward Warrington AC 27:12 41
M70
1 Tony Martin Fife AC 25:15 17
2 Stanley Owen Salford H 26:14 26
3 Stewart Thorp Oxford City AC 28:50 63
4 Stephen Plested Ealing Southall & Middlesex 29:49 71
5 Alexander Anderson Tyne Bridge H 37:24 106
6 Keith Graham Tyne Bridge H 38:44 111
M75
1 Alex Sutherland Inverness H 28:00 51
2 Richard Bloom Herts Phoenix AC 31:20 80
3 Alan Wilks Aycliffe RC 32:25 88
4 Paul Bentley Morpeth H 35:45 102
5 John Hindmarch Tyne Bridge H 36:47 105
6 Neil Robson Bingley H 38:34 110
M80
1 Michael Barnes Northern Masters AC 37:49 107
2 Mac Stephenson South Shields H 41:07 116
3 Bill Brown Heaton H 46:13 120
M85
1 Ian Barnes Darlington H & AC 47:36 123
2 Walter Ryder Morpeth H 51:17 125
3 Peter Norman Wrexham AC 55:33 127