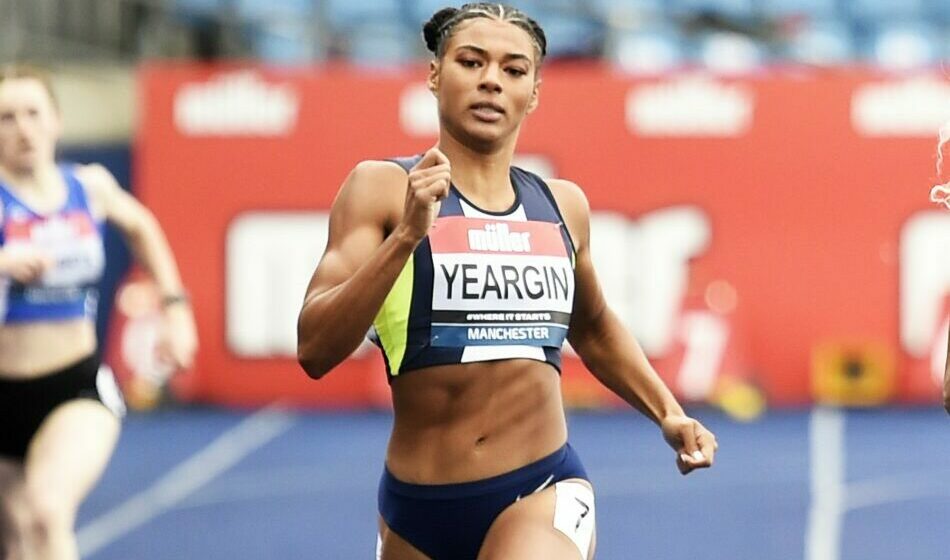 We speak to a British Olympian whose drive means she is always on the lookout for self-improvement
The thing about me is that Im very resilient, says Nicole Yeargin. Thats just as well. The 25-year-olds resilience and ambition have been driving forces in her career to date, fuelling track-inspired moves from high school in Maryland, to college in Ohio, then the University of Southern California (USC) and most recently to Texas, where she has linked up with coach Boogie Johnson and a group of athletes including Dalilah Muhammad, the former Olympic 400m hurdles champion and world record-holder.
Both attributes also helped her to pick herself up after a disappointing disqualification for a lane infringement in the Olympic 400m heats in Tokyo. Once something happens, its happened. I can shed a tear, but after that, why would I keep myself down? she says. I had two goals [in Tokyo] the 400m and the [4x400m] relays. The 400m was done, but we still had the relay. It really didnt affect me that much. I made a simple mistake that I wont make again.
Yeargin began to realise her athletics potential at Ursuline College, Ohio. She played soccer, her preferred high school sport, but she had started to break school track records and was winning regional meets. She switched to Kent State where she knew the standard was higher, but experienced a harsh reality check when she got dusted in the 200m at the NCAA Regionals.
I was doing well in the Midwest, but I think I realised at that point that I had a lot of work to do, says the Pitreavie AAC athlete who was born in Maryland by competes for Great Britain and Scotland thanks to her Scottish mother. Ever since that year I was ready to go, I was on it, and I remember thinking that the rest of the team just wasnt. I was taking the sport seriously and it was time for me to find a group of ladies that felt the same way, so I transferred to (the 400m group) USC.
Yeargins moves have been calculated and decisive, leaving little room for emotion or sentiment. Every school she went to, every year that passed, training got more intense. Her continual strive for improvement led her to the USC elite programme post-Tokyo alongside athletes such as Michael Norman, Rai Benjamin and Kendall Ellis, but it wasnt the right fit.
She spoke to a former team-mate who had already moved out to Texas and figured that, if it worked for her, then it was worth a shot.
She called coach Johnson, then packed up a rental car and drove out three days later. I dont want to say Im much happier in the sense that I wasnt happy with the group in LA, but its everything that comes with it, she says.
Being in a group with Dalilah and some of the older girls, you grow off them and see how they do it. Whatever Boogie says, you do. You have to commit 100 per cent to the group. There are no off days, there is no, Im tired. Im not going to lie, the workouts are very, very tough and they will test your mental strength, but theyve made me better.
Boogie is very dedicated. Hed literally sleep at the track if he could, and I love that about him. Hes hard on us, but at the end of the day its out of love. He knows that I can run a 49, even a 48 one day, so hes not going to let up on me if Im feeling down or having a bad day because he has high expectations. He knows what I can accomplish, and I feel like this is where I belong.
Favourite session: I like 200m repeats in around 35 seconds like 14-16 x 200m off equal rest. I can push myself over short distances.
Least favourite session: The worst workout for me was definitely when we had one mile 1km 600m 400m 200m. Im pretty sure that was my second day. I improved the second time we did it, but the 1ks just knock me out every time, thats for sure.
Typical training week
Yeargin who is ranked third on the Scottish all-time list for 400m (50.96) isnt told the details of her workout until shes on the line. Her warm-up is consistently an hour and a half, and the group typically has a Sunday off.
We start with a run around the track, then we do hurdle walkovers, sprint drills, a dynamic warm-up, hurdle skips, acceleration runs and strides, then we get on our spikes, and we have more accelerations, she explains.
We do short stuff first 60s, 80s, 90s in our spikes, or coming out of blocks. Thats usually how we start, then we get to the workout, and we usually have repeats, like repeat 300s, repeat 400s, repeat 200s, definitely a higher volume than youd think, and if we dont have that well have a long, hard rep, like 500m. So thats our two different days, repeats or over-distance, breaking it down to 500m, 200m, 150m just really hard.
Ive just had to go with it. I feel stronger, I feel a lot fitter than I was before. Im doing more volume. I think I ran two 500s last year and this year Ive done three 500s in one session. Ive done 3 x 1km with 90 second rest between them, and that was just the beginning of the workout. We still had 200s and 80s after that.
Im just trusting the process right now. Ive hit 51-mid many times in every race Ive run so far so I cant knock the training. Im clearly fit and Im running consistently and Im ready to get into the 50-points for sure. I know thats coming.